Proofreading vs. Editing – Major Differences
Most of the clients of the professional editing firm and freelance writer do not know the major difference between proofreading and editing, or which service will be better to choose. Proofreading and editing services generate different results for the writers or editors, and thus potential consumers should know what their purpose is.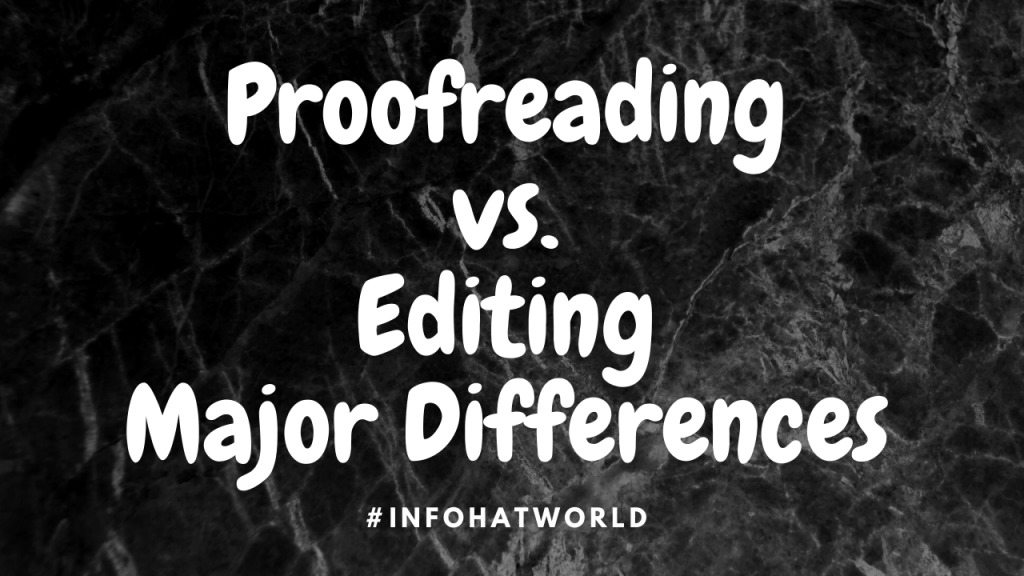 In this guide, we will talk about proofreading and editing differences, not just to help those clients, but also for the writers who are assessing their options. Here we will try to provide some general recommendations as to when the client must get proofreading or editing service and look at some major differences for both.
Also Read: Top 3 Emoji Apps To Use For Your Everyday Conversations
Difference Between Proofreading & Editing
Terms 'proofreading' & 'editing' are at times used interchangeably; however, there are some important differences that connect both.
Proofreading generally focuses on correcting any superficial errors in grammar, spelling, punctuation, syntax, and formatting. Thus, it generally happens at the end of the writing process as the final step before you submit the paper that is ready to get published.
Editing takes a deeper look at how information or ideas are presented. Whereas editing includes various steps that are involved in the proofreading, the focus is to make changes that will make the article simple to understand, well organized, and suitable for your audiences. Because editing is an important part of formulating the research argument, this happens many times throughout your writing procedure.
Editing in Complete Detail
Editing is broken down into content editing or copyediting. Content editing will overlap with the revision and sometimes is called substantive editing, copyediting will overlap with proofreading. Suppose you are not very sure what you want and what service is required by your editor, it is good you clarify it before any writing is done.
In many cases, the term "editing" includes things like spelling, grammar, and punctuation. The objective during the stage is to ensure that everything flows rightly. It is done by correcting punctuation and grammar, but, depending on your writing condition, more will be required and that is where editing overlaps with revising.
Copyediting focuses more on things such as typos, grammar, spelling, mistakes, and sometimes overlaps in proofreading. You can easily take care of grammar mistakes using Software like Grammarly. Also, it's easy to get Grammarly premium free.
Proofreading in Complete Detail
Proofreading reviews punctuation and spelling mistakes and is a final step before you publish your content. It is generally done when you have the final copy of formatted work. The proofreader has to look for typos and formatting issues. The job is to ensure your writing looks great.
Proofreaders can compare its final document to an edited manuscript and ensure no pages are missing out, page breaks must be in the right order, and page numbers match to what contents table explains. Substantive editing, revising, copyediting, content editing, and proofreading are generally used interchangeably, thus if you are not which service you want, ensure you confirm with the editor.
Make the Correct Choice
You might be thinking that getting rid of common mistakes or inconsistencies in the document isn't the most demanding job and even a family member or friend, or a computer program, can do it. But, professional editors or software will be the right choice than your family member or friend. So find the right book editors in New York for your editing or proofreading tasks.
A professional proofreader knows the English writing conventions and nuances of this language and trained to be systematic, and from experience will identify or eliminate common errors that plague, for instance, a thesis or novel. 
Proofreading is one essential service as any writing for publication—no matter whether an academic article, business document, or book —should communicate the message most clearly. For your writing to stay clear there should not be any spelling, grammar and punctuation errors, and inconsistency in the language, since these will undermine the impact of your writing and credibility of an author.
Also Read: Free Backlink Generators: Are They Good for SEO?
In Summary
Proofreading will be one essential service and best option if there is a scope to enhance your writing skills, which includes language use, adherence, and expression to any writing conventions as per your field, and editing is a way for you to go.
Ideally, the writer will get the editing service first, subsequently final proofread before publication to make sure absolute perfection. If you are after one service, then you have to select the right one and hope you have gone through the difference in this guide.